Header Image: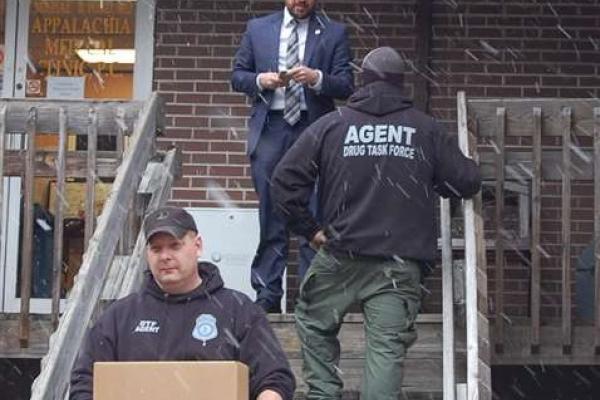 WISE — A Wise County physician, his wife and an employee face a deluge of drug and fraud charges in indictments handed down this week by a grand jury.
The indictments follow a raid by officers while executing a search warrant in March at the offices of Dr. Michael B. Ford, 74, operating a medical practice (the Appalachian Medical Clinic in Appalachia) with his wife, Una Faye Ford, 68.
The warrant was executed by a number of law enforcement agencies including the Southwest Virginia Regional Drug Task Force, the Virginia State Police, federal agents and the Wise County Sheriff's Office. Authorities seized documents and other evidence for review.
A Wise County grand jury handed down five separate indictments against Dr. Ford, totaling more than 100 charges alleging illegal distribution of various controlled substances, prescription fraud, conspiracy and Medicaid fraud.
Dr. Ford's wife also faces many of the same sorts of allegations, totaling more than 100 charges in five separate indictments of her own. The indictments include allegations that Dr. Ford provided pads of pre-signed prescriptions so his wife and an employee could illicitly obtain and distribute controlled substances.
The indictments cover a period of just a few months last fall and allege that the offenses occurred from September through December of last year.
Also indicted is 53-year-old clinic employee Deborah B. Fugate. She faces a total of 14 counts in two separate indictments on charges of obtaining drugs by fraud, Medicaid fraud and conspiracy.
Essentially, the indictments allege the three illicitly procured and sold drugs using fraudulent prescriptions and conspired to bill Medicaid for patient visits and medical services that never occurred.
Regional DTF Coordinator and Virginia State Police Special Agent Chris Gilley said VSP Special Agent David Robbins, assigned to the DTF Drug Diversion Unit, initiated a year-plus investigation into the Ford medical practice that resulted in the March 8 search warrant conducted on the clinic.
Article Credit: Stephen Igo
Original Article: http://www.timesnews.net/Law-Enforcement/2018/08/17/Wise-County-physician-wife-employee-face-drug-fraud-charges