Header Image: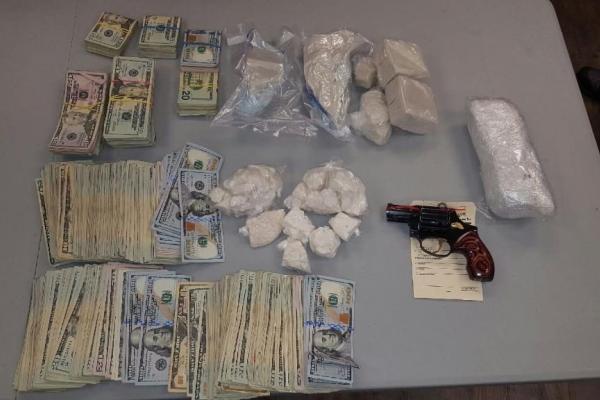 By Alex Wiederspiel in News | October 03, 2016 at 8:19AM
CLARKSBURG, W.Va. — A number of agencies in Harrison County were involved in multiple drug busts over the weekend, resulting in the seizure of nearly $400,000 in illegal drugs.
On Friday, the Bridgeport Police Department received a tip that led to the seizure of a kilogram of heroin, a half kilogram of iced methamphetamine, and a half kilogram of crack.
The seized heroin has an approximate street value of $176,000. The seized iced methamphetamine had an approximate street value of $100,000. The seized half kilogram of crack had an approximate street value of $66,000.
Bridgeport Police also recovered $35,000 in U.S. currency.
An arrest is pending from that bust.
Later that day, the Harrison County Sheriff's Department Street Crimes and Drug Unit (SCAD) seized more than 82 bricks of heroin (4130 stamps)
The SCAD unit received a tip earlier Friday that Price 'Project' Patterson, 29, of Pittsburgh, PA, was in the process of collecting funds from people in Clarksburg to participate in a major purchase of heroin from a dealer in McKeesport, Pennsylvania.
Price is already facing drug charges in Harrison County in connection to a bust two weeks ago in Clarksburg. He was free on bond.
The SCAD unit seized seven and a half bricks of heroin, possibly laced with fentanyl, from a Clarksburg home in that bust. They also seized approximately 320 grams of synthetic marijuana, additional heroin stamps and needles, packaging and weighing materials, and nearly $2,500 in cash.
During the course of the investigation, SCAD deputies began conducting surveillance on residences in the Clarksburg area where they believed Patterson had been storing and selling heroin. During the course of the surveillance, deputies observed Patterson conducting a 'stake out' of a Washington Avenue residence.
That night, law enforcement intercepted the 4130 stamps of heroin and arrested Patterson.
Patterson is charged with conspiracy to possess heroin with intent to distribute and conspiracy to interstate transport heroin into West Virginia with intent to distribute. Both are felonies.
SCAD deputies made a third bust Saturday–resulting in the arrest of a Fairmont man.
Police say John Jeffery Heimbach, 35, of Fairmont, was attempting to sell heroin in the Adamston area of Clarksburg.
The K-9 unit, led by 'Rebbel,' discovered seven foil packs of raw heroin, two paper packs of raw heroin, and a set of digital weighing scales.
The seized heroin had an approximate street value of $750.
Heimbach was charged with possession of heroin with intent to distribute, a felony.
He is currently being held in the North Central Regional Jail pending a $25,000 bond.
Original Article: http://wvmetronews.com/2016/10/03/weekend-of-busts-in-harrison-county-le...