Header Image: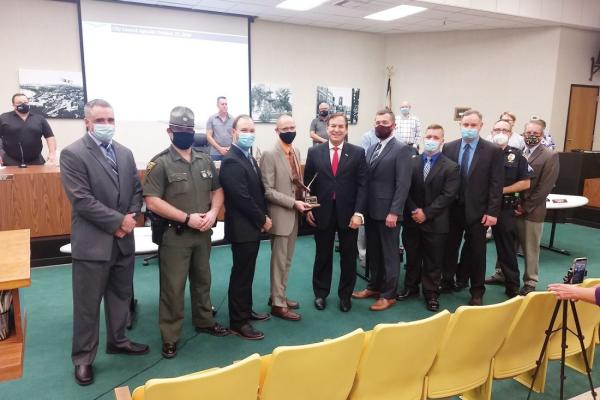 PARKERSBURG — The Parkersburg Narcotics Task Force was recognized Tuesday as the Drug and Violent Crime Task Force of the Year for West Virginia's Southern District.
Mike Stuart, U.S. Attorney for the Southern District of West Virginia, presented the award during Tuesday's Parkersburg City Council meeting.
The task force — made up of members of the Parkersburg, Vienna and Williamstown Police Departments, Wood County Sheriff's Department and West Virginia State Police — was recognized for its work two years ago in "Project Parkersburg," which resulted in the largest seizure of methamphetamine in the history of the state.
"The Mexican cartel was feeding drugs directly into Parkersburg," Stuart said.
Nearly 150 pounds of 99 percent pure meth was seized, along with 478 grams of fentanyl — "enough to kill 350,000 people," Stuart said — 217 grams of heroin and 6 kilos of cocaine. Twenty-eight people were charged, and all 16 that faced federal counts have pleaded guilty and are "serving a nice, long prison sentence," he said.
Local authorities worked in cooperation with the FBI in multiple states and the Arizona State Police on the operation.
"It is a big deal, and I congratulate all of them for exemplary service and exemplary leadership," Stuart said.
He also presented awards for excellence in the pursuit of justice to Parkersburg Police Lt. Pat Edelen, Sgt. Josh Snyder and Task Force Agent Kyle Barnette for their roles in investigating and arresting a Mineral Wells man who posed a threat to the community. It was a case for which Stuart also recognized Wood County Prosecutor Pat Lefebure and Sheriff's Deputy Cody McClung last week.
Benjamin Lee Parsons came to the attention of authorities nearly five years ago when he wore a mask to a church service, Stuart said. His possession of weapons, interest in terrorist videos and discussion of a desire to commit violent acts against police and local "soft targets" eventually led to him being involuntarily committed to a mental institution in 2017.
After he was released, he remained on law enforcement radar and was eventually arrested after acquiring additional firearms in 2018, despite being prohibited from having them, Stuart said.
"They took the next step to make sure Benjamin Lee Parsons wasn't the next big headline," he said, noting Parsons is serving a five-year prison sentence.
Stuart called the Parkersburg Police Department one of the best agencies in the state and nation and praised the leadership of law enforcement in Wood County, including Lefebure, Sheriff Steve Stephens, Parkersburg Police Chief Joe Martin, Vienna Police Chief Mike Pifer and Williamstown Chief Shawn Graham. He also noted the challenges facing law enforcement today, with criticism and protests over the actions of some officers in high-profile cases around the country.
"It's probably the most demoralizing time for law enforcement in the history of our country," he said.
Stuart said he's glad West Virginia is a state that supports its law enforcement agencies and officers.
"We don't praise our police officers enough, whether it be county, state, city," Councilwoman Sharon Kuhl said. "They are busting their butts, and we need to give them that community support just by saying thank you."
Original Article: https://www.newsandsentinel.com/news/local-news/2020/10/u-s-attorney-stuart-recognizes-parkersburg-narcotics-task-force/