Header Image: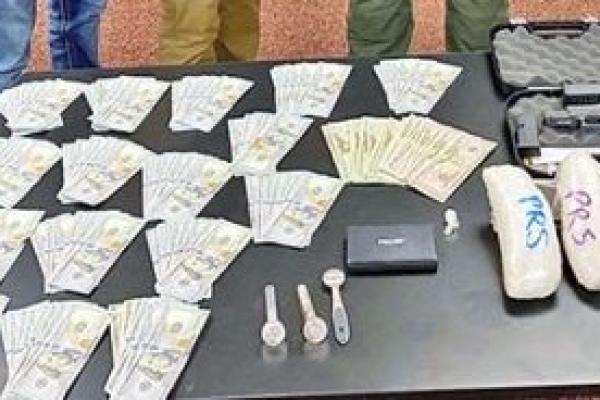 Local, state and federal law enforcement authorities seized one kilogram of methamphetamine from a southern Laurel County motel early Friday morning, and have charged a Nicholasville man and a Corbin woman in connection with the case, according to a Laurel County Sheriff's Department release.
The joint drug investigation was conducted between the 75/80 Drug Interdiction Team, ATF and Kentucky State Police at 3:13 a.m. that resulted in a search warrant being sought and executed on the motel room, the release stated.
In addition to the methamphetamine, officers also seized digital scales, glass pipes and drug paraphernalia items. The man was also found in possession of a Glock 19 handgun, and investigators learned that he was a convicted felon, according to the release.
Bradley Justin Lawson, 40, of Faulconer Avenue, and Amy Elizabeth Johnson, 37, were charged with first-degree trafficking in a controlled substance more than two grams of methamphetamine and possession of drug paraphernalia. Lawson was also charged with possession of a handgun by a convicted felon, the release stated.
Both were lodged in the Laurel County Correctional Center. Johnson is being held in lieu of a $10,000 cash bond, and Lawson is being held in lieu of a $25,000 cash bond in connection with this case, according to the correctional center's website.
The correctional center's website also notes that Johnson is being held in connection with other apparently unconnected charges, including first-degree wanton endangerment of a police office, tampering with physical evidence, three counts first-degree possession of a controlled substance (heroin, methamphetamine and opiates), and trafficking in a controlled substance (carfentanil or fentanlyl derivatives).
The correctional center's website also indicates that Lawson is being held in connection with a federal case, and no bond is allowed in that case.
Laurel County Sheriff John Root said that drug investigations and arrests will continue in Laurel County.
Drug interdiction team members involved in the case include: Sheriff's Narcotics Detective Jake Miller, Deputy Landry Collett, Deputy Justin Taylor and London City Police Officer Joey Robinson. Assisting at the scene were Laurel Sheriff's Shift Sgt. John Inman, Deputy Marcus Stigall and Deputy Drew Wilson.
Original Article: https://www.thenewsjournal.net/one-kilogram-of-meth-seized-from-southern-laurel-county-motel/