Header Image: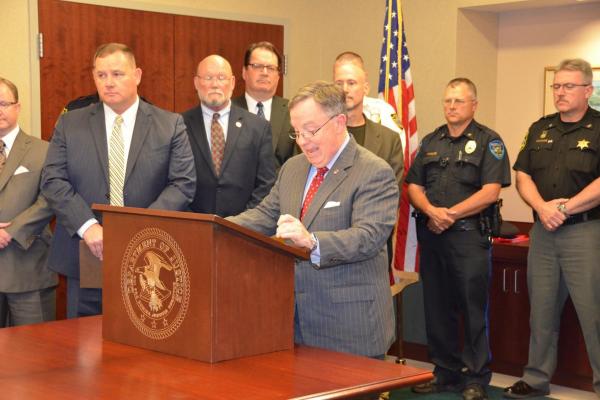 WHEELING — A total of 31 people from West Virginia and Ohio have been indicted in connection with a drug distribution operation running in Wetzel and Tyler counties.
Bill Powell, U.S. Attorney for the Northern District of West Virginia, said Tuesday that 23 indictments were returned by a federal grand jury in Wheeling June 5 in connection to an operation distributing methamphetamine, cocaine and heroin.
"These indictments demonstrate our continued efforts to aggressively prosecute those who consider West Virginia as a viable market to distribute their poison," Powell said. "We are seeing increased trafficking of methamphetamine, which also brings increased violence. Thanks to our prosecution team, and the incredible efforts of our law enforcement partners, these indictments were returned.
"The cases are now on the path for a final resolution. Our mission to keep our communities safe remains paramount."
Powell said the alleged drug operation involved trafficking the drugs to West Virginia from Columbus, Ohio, which were obtained from as far away as Atlanta, Georgia. In addition to these charges, some of the indicted also face weapons charges.
Indictments are merely accusations and all defendants are presumed innocent unless and until they are proven guilty.  
The indicted are: 
Joshua Cathers, 38, of Sistersville
Michael Shawn Hartline, 34, of Sistersville
Rachel A. Cook, 28, of Sistersville
Holly C. Jenkins, 55, of New Martinsville
Justin Richeson, also known as "Squash," 34, of New Martinsville
Timothy Lohri, 36, of Williamstown
John M. Talkington, 29, of New Martinsville
Haley Weigle, 24, of New Martinsville
Wilson Longwell, 26, of Littleton
Desiree Morgan, 23, of Paden City
Ronald Morgan, 50, of New Martinsville
Richard Warf, 54, of Sistersville
Charles C. Williamson, 31, of Sistersville
Brea M. Saeger, 27, of Sistersville
Miranda Stewart, 23, of Sistersville
Susan Kotson, 53, of New Martinsville
Alex King, 32, of New Martinsville
Amber M. Richeson, 36, New Martinsville
Boyd Williamson, 36, of Middlebourne
Cynthia L. Henries, 47, of New Martinsville
Todd Jones, 55, of New Martinsville
Randy Peffer, 25, of New Martinsville
Doug William Matthews, 32, of New Martinsville
Also in connection with the same trafficking operation, eight others, all residents of Ohio, were indicted by a federal grand jury in Wheeling April 5. The eight are suspected members or associates of a street gang called the "Elaine Crip Family," Powell said.
The indicted are: 
Rodriquies M. Evans, also known as "Dree", 27, of Columbus, Ohio
Marisa Page, 26, of Columbus, Ohio
Kenyatta Banks, Jr., also known as "Yatta", 28, of Canal Winchester, Ohio
Matthew Jackson, also known as "Matt-Matt", 22, of Columbus, Ohio
Delkira L. Rodgers, 20, of Columbus, Ohio
Robert L. Gregory, 36, of Columbus, Ohio
Cedric L. Douglas, 29, of Groveport, Ohio
Aaron Callahan, 28, of Columbus, Ohio
ORIGINAL ARTICLE: https://www.wvnews.com/news/wvnews/grand-juries-indict-in-connection-with-drug-operation-in-wetzel/article_ba5a7e3b-95c4-5900-82a3-6f2566ee239c.html