Header Image: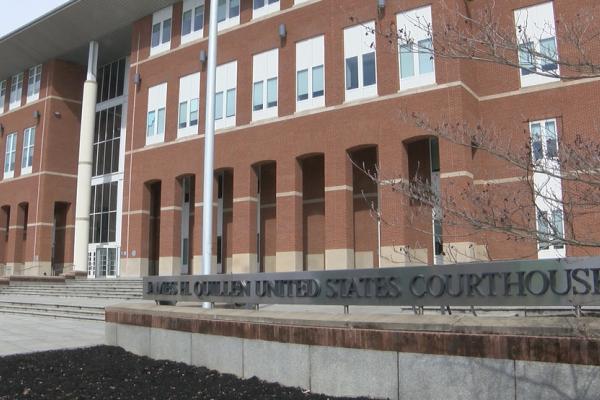 Greeneville, Tenn. - On June 26, 2023, following a four-day trial in the United States District Court at Greeneville, a jury convicted Terrance Lamont Hines, Jr., 41, of Kingsport, Tenn., of conspiring to distribute 400 grams or more of fentanyl resulting in death in violation of 21 U.S.C. §§ 846, 841(a)(1), (b)(1)(A) and 851; possession of 40 grams or more of fentanyl with intent to distribute, in violation of 21 U.S.C. §§ 841(a)(1) and (b)(1)(B), three counts of distribution of a quantity of fentanyl, in violation of 21 U.S.C. §§ 841(a)(1) and (b)(1)(C); possession of a firearm in furtherance of a drug trafficking offense, in violation of 18 U.S.C. § 924(c)(1)(A) and two counts of possession of a firearm by a convicted felon in violation of 18. U.S.C. § 922(g)(1).
Sentencing is set for October 30, 2023, at 3:00 p.m. before the Honorable J. Ronnie Greer, in United States District Court for the Eastern District of Tennessee at Greeneville.  Hines faces a minimum mandatory sentence of twenty years imprisonment as a result of the conviction for conspiracy to distribute 400 grams or more of fentanyl resulting in death and mandatory life in prison if the Court finds that Hines has the prior qualifying felony drug trafficking conviction filed as a notice of enhancement in the indictment.
The evidence presented at trial demonstrated that Hines supplied the fentanyl that caused the death of a 52-year-old Kingsport woman in December 2020.  Three co-defendants were also part of the chain of distribution.  Hines sold the fentanyl to co-defendant Robin Hutchins, who sold it to co-defendant Adam Presnell, who sold it to co-defendant Shaina Lanford, who supplied it directly to the victim.  The evidence showed that on July 20, 2021, law enforcement executed search warrants at Hines' apartment and at a Kingsport music recording studio which operated as a hub for his drug trafficking.  Officers located two firearms and over 100 grams of fentanyl.  Hines, who had previously been convicted of multiple felony offenses, was prohibited from possessing firearms. 
Co-defendants Hutchins, Presnell, and Lanford previously pled guilty to conspiracy to distribute fentanyl and will be sentenced at a later time.
U.S. Attorney Francis M. Hamilton III of the Eastern District of Tennessee made the announcement. 
The criminal indictment was the result of an investigation by the Tennessee Bureau of Investigation, Sullivan County Sheriff's Office, and Sullivan County Drug Related Death Task Force, with assistance from the Kingsport Police Department and 2nd Judicial Drug Task Force.  The Sullivan County Drug Related Death Task Force receives federally funding through the Appalachian High-Intensity Drug Trafficking Area (AHIDTA) initiative, which uses a multi-disciplinary approach to address public health and safety issues that center around the opioid epidemic as well as other dangerous drug trends.
Assistant U.S. Attorneys Emily Swecker and Mac Heavener represented the United States.
This case was brought as part of Project Safe Neighborhoods (PSN), a program bringing together all levels of law enforcement and the communities they serve to reduce violent crime and gun violence, and to make our neighborhoods safer for everyone.  On May 26, 2021, the Department launched a violent crime reduction strategy strengthening PSN based on these core principles: fostering trust and legitimacy in our communicates, supporting community-based organizations that help prevent violence from occurring in the first place, setting focused and strategic enforcement priorities, and measuring results.
Original Article: https://www.justice.gov/usao-edtn/pr/federal-jury-convicts-terrance-hines-conspiracy-distribute-fentanyl-resulting-0