Header Image: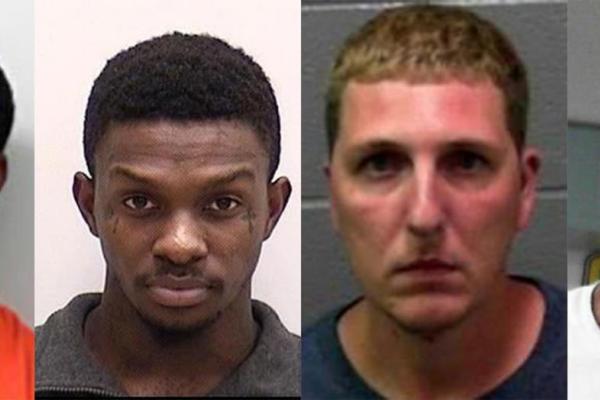 CLARKSBURG, W.Va. (WV News) — A federal jury in Clarksburg deliberated two hours Wednesday before convicting a 28-year-old Georgia man of helping his half brother dispose of a West Virginia overdose victim's dismembered body in an Atlanta-area landfill.
In addition to the verdict on the charge of accessory after the fact to distribution of fentanyl resulting in death, the jury also convicted Seddrick Banks of Cartersville, Georgia, of participation in a drug conspiracy involving cocaine, fentanyl and 50 or more grams of crystal methamphetamine; three aiding and abetting possession with intent to distribute counts (50 grams or more of crystal meth, cocaine and fentanyl (40 grams or more); and use and carry of a firearm during and in relation to a drug-trafficking crime.
U.S. District Judge Thomas S. Kleeh will impose sentence at a later date. Banks could face up to life in prison.
Banks' half brother, Terrick Robinson, 36, of Cartersville, was convicted in January 2020 of distribution of fentanyl resulting in the death of 20-year-old Fairmont resident Courtney DuBois; the same drug conspiracy count; the same aiding and abetting possession with intent to deliver counts; distribution of 50 or more grams of meth; and two gun charges.
As he was led from the courtroom following the verdict, Banks reportedly mouthed an obscenity and made on obscene gesture in the direction of DuBois's mother.
Kleeh sentenced Robinson last Oct. 29 to life in prison on all of the drug-related charges, including the fentanyl overdose count, then tacked on 10 more years for the two gun convictions.
Kleeh's sentencing of Robinson followed a blistering rebuke. Just prior to handing down the term to Robinson, Kleeh appeared to imply that if the death penalty had been available, he would have considered it.
"What I learned here in this trial, and here today, is that evil most certainly exists and walks among us today, and is personified in you," Kleeh said. "... What you did, sir, to that poor girl after she died was subhuman. The swath of destruction in just your limited visits to this place that we call home, and the wonderful people who call this place home, is something I will never forget."
Co-defendants William Gregory Chappell, 34, and Joel Macario Jimenez, 39, both of Cartersville, Georgia, have pleaded guilty and are awaiting sentencing by Kleeh. Each man admitted being part of a crystal meth distribution conspiracy that involved a pipeline from Georgia to West Virginia. Chappell also entered a plea to a gun charge. Each could face 20 or more years in prison.
Assistant U.S. Attorney Brandon Flower presented the first part of the government's closing argument in Banks's case, mentioning the approximately 35 witnesses and 100 exhibits introduced in the investigation led by the commander of the Greater Harrison Drug & Violent Crimes Task Force.
As co-counsel Andrew Cogar, also an assistant U.S. attorney, "told you on the second day of trial, this case is about drugs and greed," Flower said.
The four Georgia defendants, whom the government said were known collectively as "The Georgia Boys," were bringing drugs in large quantities to West Virginia, "and particularly Northern West Virginia," Flower said.
And the case was also about "how those drugs and that greed led to the coverup" when DuBois fatally overdosed Aug. 9, 2018, at a Jane Lew Days Inn motel room after Robinson gave her fentanyl, Flower said.
Robinson was stranded in West Virginia by Jimenez and Chappell after Robinson asked them to bring back gasoline, matches and a shovel and they instead drove back to Georgia, according to Flower and Cogar. Cogar presented the second part of the government's close.
So Robinson called on his "little bro" who knew "how to conduct business," and Banks drove eight hours from Georgia and through the West Virginia mountains to retrieve Robinson and DuBois's body, the government alleged.
Back in Georgia, the men "threw [DuBois in a trash compactor, just like garbage," Flower told the jury.
This act helped show that Banks was well aware of the Georgia-to-West Virginia drug operation in which the government named Robinson as the leader, Cogar said.
Robinson would return to West Virginia within days of DuBois's death, again looking to sell drugs, Cogar and Flower asserted. And Banks would follow soon after, according to the government. They cited Greater Harrison task force surveillance Aug. 22, 2018, of the Jane Lew Days Inn.
While DuBois's body was dumped at the Cedar Creek collection site compactor in Cartersville, and then recovered at the landfill after sanitation workers found it, authorities weren't immediately able to identify it. And even after the body was identified, authorities still didn't have the evidence to charge the defendants.
But Robinson and Banks' return to West Virginia on Aug. 22, 2018, put them firmly on the radar of a drug investigation. And then an undercover operation a few days later at the Elkview Speedway helped set the stage for the first big break in the case: A Sept. 4, 2018, controlled purchase at Room 202 of the White Hall Red Roof Inn.
Robinson was arrested in his vehicle in the Fairmont area, while Banks and Chappell were arrested at the room with a quarter million dollars of drugs, and where another quarter million of drugs may have been flushed down the toilet, according to Cogar.
The flash bang raid of that room saw Banks grabbing the drugs and flushing them, Cogar said. That belied the contention by defense attorney Belinda Haynie in her close that the government never proved that Banks was part of the drug conspiracy, drug crimes and the accessory after the fact to the fentanyl overdose.
Haynie ripped the credibility of Jimenez and Chappell, who testified against Banks, and also tore into the character of Robinson.
Jimenez and Chappell are "trying to save their own skins," she said. "... They're going to get [sentencing] reductions for their testimony." She added that Chappell is a butcher who "knows how to cut through bone."
"You can't trust these guys. … In this case, the government made deals with the devil," she said.
As for Robinson, Haynie termed him "a bad guy" who was selling "a ton of drugs in this area."
"Those three guys are the really, really horrible people in this case," Haynie said. "Those are the people justice should be for. I can't imagine them leaving that young lady to die like that, but that's what they did."
Much of the government's case revolved around tracking purported movements of Robinson and Banks via phone pings, along with analysis of texts and photos found on cell phones.
During his opening statement, Cogar had termed Banks' cell phone as a "black box" that would point the finger at the defendant.
Photos of the nude body of DuBois in a bathtub, apparently dead, along with what appeared to be blood stains and gore on Tyvek suits allegedly purchased Aug. 11, 2018, at a Cartersville area Lowe's, helped incriminate Banks and Robinson, the government attorneys alleged.
Haynie countered that "the government can never tell you how those photographs got on the phone they attribute to Seddrick Banks."
They could have been taken on the phone, but they also could have been downloaded after receipt from someone else via email or text, she said.
During her closing argument, Haynie named two other individuals who weren't charged as potentially being the ones who helped Robinson get rid of DuBois's remains. She also rammed home the concept of the U.S. presumption of innocence, and proof beyond a reasonable doubt.
The government did nothing to prove that Banks was more than a bystander, Haynie said.
Cogar scoffed at Haynie's close.
He said that during her presentation, which lasted a little over an hour, jurors were taken to Mr. Rogers' Neighborhood of Make-Believe.
The reality was much different, he said.
Cogar cited Josh Billings, the pen name for 19th century humorist Henry Wheeler Shaw, who once said that "common sense is the knack for seeing things the way they are."
Cogar also focused jurors toward part of a quotation from John Adams, second president, that "facts are stubborn things; and whatever may be our wishes, our inclinations, or the dictates of our passion, they cannot alter the state of facts and evidence."
"Facts are stubborn things. Facts are stubborn things," Cogar said. "Ladies and gentlemen, there are a lot of stubborn facts in this case."
Closing arguments lasted about 3 hours. The jury got the case around 3:40 p.m.
Former assistant U.S. attorney Traci Cook began the prosecution and was the lead attorney in the trial conviction of Robinson.
Banks's trial lasted six days. He has been jailed throughout his prosecution.
"This horrific and heinous crime is more than just a drug-trafficking case," said Acting US Atty. Randolph Bernard, Northern District of West Virginia. "Banks and his co-conspirators not only preyed on our neighbors with the drugs they were selling, they allowed a young woman to die and disposed of her without any regard or respect for her life. While this outcome won't bring Courtney back, we hope it will give her family some peace as justice has prevailed."
Orginal Article: https://www.wvnews.com/news/wvnews/federal-jury-convicts-georgia-man-of-helping-dispose-dismembered-west-virginia-overdose-victim-in-atlanta/article_4173326a-945f-5048-8e59-fe940f055bd2.html