Header Image: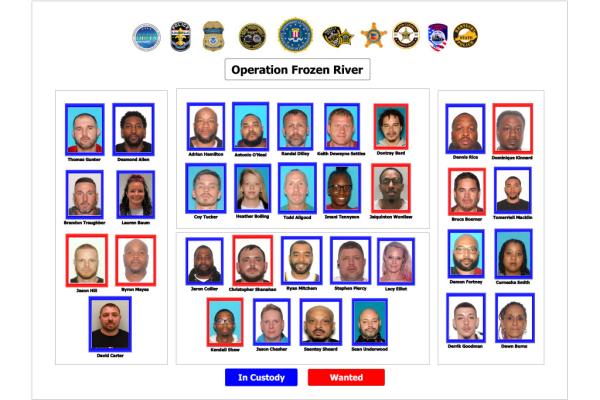 LOUISVILLE, Ky. —
The FBI said more than 20 suspected drug traffickers in the Louisville region have been arrested, and they're looking for more.
FBI was seen raiding several locations across Louisville on Tuesday.
Later in the day, the U.S. Department of Justice released names of 34 people across the city and in southern Indiana connected to a drug investigation called "Operation Frozen River."
At least six of these suspects were arrested on Tuesday.
All of them are accused of conspiring to distribute meth or fentanyl. Most of them are facing additional charges, some involving firearms.
Several of the allegations begin back as far as Jan. 1, 2021.
The suspects are divided into four different indictments.
Below are the names of the suspects. The names in bold are still at large.
Thomas Gunter, 39, Louisville
Desmond Allen, 37, Louisville
Byron Mayes, 49, Louisville
David Carter, 41, Louisville
Lauren Baum, 31, Louisville
Brandon Traughber, 41, Georgetown, Indiana
Jason Hill, 40, Corydon, Indiana
Adrian Hamilton, 51, Louisville
Antonio O'Neal, 47, Louisville
Randall Dilley, 49, Louisville
Keith Dewayne Settles, 51, Louisville
Coy Tucker, 32, Louisville
Jaiquinton Wordlaw, 40, Louisville
Heather Boling, 25, Louisville
Dontray Bard, 38, Louisville
Todd Allgood, 54, Louisville
Imani Tennyson, 21, Louisville
Dennis Rice, 44, Jeffersonville, Indiana,
Tomerriel Macklin Jr., 23, Louisville
Damon Fortney, 44, Louisville
Dominique Kinnard, 33, Louisville
Curnesha Smith, 30, Louisville
Derrik Goodman, 26, Louisville
Bruce Boerner, 56, Louisville
Dawn Burns, 55, Louisville
Kendall Shaw, 41, Louisville
Jaron Collier, 45, Louisville
Ryan Mitchem, 41, Louisville
Saentay Sheard, 46, Louisville
Stephen Piercy, 46, Louisville
Sean Underwood, 51, Louisville
Christopher Shanahan, 33, Louisville
Jason Cheser, 48, Louisville
Lacy Elliot, 35, Louisville
Some of them faced a judge on Tuesday, and others will be in court on Wednesday.
If convicted, the defendants each face minimum sentences ranging from 10 to 35 years, and all each face a maximum sentence of life in prison.
There is no parole in the federal system.
Several agencies are involved in the investigation: the FBI, HSI, the IRS-CI, and the Louisville Metro Police Department, with assistance from the Kentucky State Police, the Shepherdsville Police Department, the Jeffersonville, Indiana Police Department, and the Jefferson County Sheriff's Office.
WLKY NewsChopper spotted several of the scenes Tuesday on camera. One was in the 12000 block of Dixie Highway, another was at a house on Northwestern Parkway in Portland and another at a warehouse on Old Fern Valley Road in Okolona.
Original Article: https://www.wlky.com/article/fbi-20-arrested-louisville-massive-drug-operation/44937408