Header Image: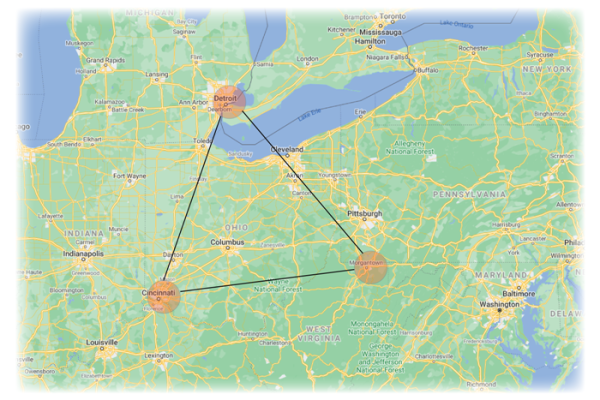 MORGANTOWN, W.Va. – Eleven people, mostly from the Detroit, Michigan area are facing federal indictments alleging they transported large quantities of cocaine, fentanyl and methamphetamine into the Morgantown area.
Assistant U.S. Attorney Randy Bernard said at a Wednesday news conference that nine of the suspects are in custody, two Michigan residents remain at-large.
From October of 2020 to February of this year investigators tallied 35 counts of selling dangerous drugs and ensnared eight people from the Detroit, Michigan area, one from Hamilton, Ohio and two Morgantown residents.
"And it's no coincidence I believe, that as we have the increase of drugs that have been trafficked from Detroit, particularly fentanyl, so too we have seen an increase in the deaths of our citizens," Bernard said.
The following people were arrested after a series of controlled drug buys in Monongalia County:
William Trice, 31, of Eastpointe, Michigan
Rico Crawford, 39, of Canton, Michigan
Addonis Moore, 27, of Detroit, Michigan
Jovonne Haynes, 26, of Detroit, Michigan
Lewis Johnson, 34, of Detroit, Michigan
Lloyd Vaughn, 27, of Detroit, Michigan
Dayshawn Burton, 26, of Hamilton, Ohio
Adrianna Bean, 21, of Morgantown, West Virginia
Derrick Hamlet, 27, of Morgantown West Virginia
Giovanni George, 32, of Taylor, Michigan, and Kenneth Jones, 27, of Detroit, Michigan, remain at large.
"We seized over six pounds of crystal methamphetamine which is a destructive drug to individuals and communities," Bernard said. "But, also over one pound of fentanyl. It's important to understand that one pound of fentanyl can lead to 200,000 deaths."
Bernard praised the efforts of police departments in Granville and Morgantown, WVU Police, the Monongalia County Sheriff's Department, the Drug Enforcement Agency, FBI and the Monongalia County Prosecutor's Office. Federal agents in Cincinnati and Detroit also assisted with the investigation.
"One individual may get arrested, but we find the very next day or shortly thereafter there's information that another person has taken up business for that individual," Bernard said. "So, that's how these investigations including this one began."
The 35-count indictment shows the drug transactions ranged from $60 to $500.
"I do think we're making a difference interdicting these drugs locally," Bernard said. "Nationally, I'm hoping this will spread out and we can make a better effort stopping these drugs from crossing our borders."
Morgantown Chief of Police Eric Powell said the goal of these operations is to remove dangerous drugs and the poepl who sell them from the street, but also sends a message to people who might consider selling drugs and the public.
" It sends a message to the people out there who might be thinking about doing it," Powell said. " It also sends a clear message to the public that we're doing what we need to do to get these drugs off the street."
This is an ongoing investigation.
Original Article: https://wvmetronews.com/2022/02/23/eleven-indicted-multistate-drug-operation-disrupted/