Header Image: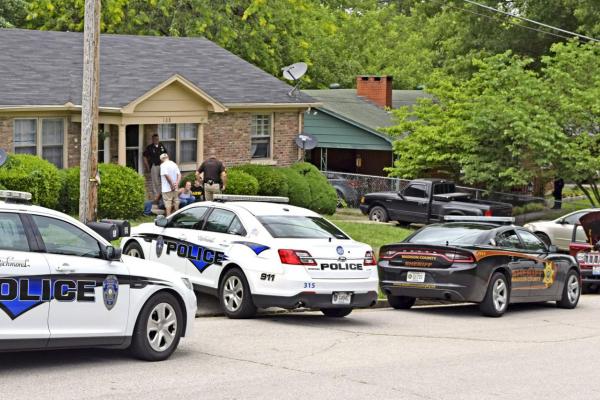 RICHMOND - In the past two and a half months that Sgt. Scott King has been the Director of the Madison County Drug Task Force, their group has seized more than 3,000 grams of methamphetamine that was either in, or had trafficking involvement, within the county.
The county drug task force, is a part of the High Intensity Drug Trafficking Areas (HIDTA) program, an initiative within the Office of National Drug Control Policy (ONDCP) that allows local, state and federal departments to combine and use resources to help combat high drug traffic areas in the region, state and nation.
In continuing to be a HIDTA county, two representatives of the Berea City Police, Richmond City Police and the Madison County Sheriff's Office are allowed to work together on the force, with statewide jurisdiction, as long as the work can be traced back to another county with HIDTA status.
Sgt. King, who has been a Kentucky State Trooper for 19 years, 14 of which were spent at Post 7, explained that the purpose of the force is to investigate middle to upper level drug related cases, and to try and develop those cases in order to identify larger trafficking operations.
"Say you take in one, two, three, four people that may be selling illegal narcotics in the community, knowing they are working together, and in doing so you develop it into a drug trafficking organization, which by state law ends up becoming a criminal syndicate," he said. "Being able to turn things like that into those types of cases, that is our purpose."
King explained that the task force receives tips through a hotline they have, as well as connecting the dots between agencies to establish connections that potentially lead to a larger operation.
"Whenever it be a street level cop, trooper, road deputy or patrolmen, or whoever, when they come across things at traffic stops, receive complaints, go to a house to talk -- when it reaches a certain level that they need the drug task force, then we can come in and we can work it beyond that," King said, "So that way, they don't have to focus on that from the beginning to the end, they can get back to what it is that they are supposed to do, enforcing the law. If we can take care of those mid to upper level dealers, those street dealers are going to go away, eventually. This is extremely important."
Right now in Madison County, King said that crystal meth is the drug they are seeing more often.
"Drugs are like fashion trends," he said. "Some things will go out of style, and then years later, they will come back in. It is about what is cheapest and packs the biggest punch. It's all about what is easily available."
When King started as a narcotics detective in 2009, he said that pills were the big thing.
"Depending on what community you are in, will depend on what is the big drug at the time."
In 2017, the task force seized 1.4 kilos of heroin and 1.5 kilos of meth. The task force also confiscated 14 pounds of marijuana, more than 2,000 Oxycodone pills, and about 1,250 Xanax tablets. In all, more than $300,000 in assets were taken from dealers. Three meth labs in the county were dismantled. The task force made over 75 arrests, and seized 32 firearms.
With the 3,000 grams of already-seized methamphetamine, King said this equated to approximately $50,000, which will then be forfeited and split amongst the task force departments, something that is also beneficial about the task force.
"Any forfeiture that occurs during those investigations, be it monetary or evidentiary, it all comes back and is split up between all of the departments involved," he said. "It gives more money back into the department that they can can help put more money into their resources for more trainings that they can send more people to."
One of the most important things about the drug task force, according to King, is that it is a multi-agency force, noting that without the collective work of the agencies and great communication, the HIDTA task force wouldn't be able to exist.
He went on to say that like any job, communication is one area that can always be strengthened within the group and can always be better. He added that having everyone from all the departments there, to talk on behalf of their area of jurisdiction helps the force work to the best of its ability.
"If you take the task force out of it and look at the different agencies within the county, everyone is so busy in their own right that communication is always what helps everybody bring everybody together," King said. "So us being here, and us having everyone at the same table, representatives of each department, that is just where we can tie it all in together."
In his two months as the task force's director, King says that their operations have gone "great" and that watching the groups work collectively is a humbling experience for him.
"When you work the road and are in uniform, you are mainly, purely reactionary. You are reacting to a theft that occurred or you are reacting to an assault that occurred because you are there for the community," he said. "But when you get into being a detective, you are investigating something from its infancy all the way to its maturity. I like being able to do that because obviously the drugs are affecting our community, they are everywhere."
In discussing the task force's importance, King said plainly that it is important for what it provides for the community in both getting drugs off the streets, and helping local law enforcement agencies.
"This is such a good idea especially with the state police being the host agency because it frees up that burden off the county and the city," he said of agency's benefits. "This keeps them from having to pour money into this, and they can now utilize the state's resources."
King went on to say that the task force is necessary because drugs are everywhere, and they are not discriminatory.
"These drugs are affecting everything, these drugs are affecting everything. All the way down to the kids inside school. There is a different look at drugs today then what it used to be."
To give an anonymous tip, the HIDTA hotline can be reached at 1-833-KY-DRUGS.
-Taylor Six, Richmond Register
Original Article: https://www.richmondregister.com/news/madison-in-depth-drug-task-force-works-to-get-drugs/article_81affce4-49bf-570a-9d42-9c6f01c53b9c.html