Header Image: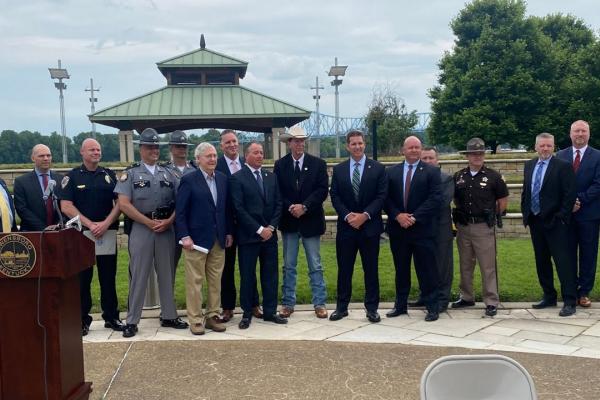 OWENSBORO, Ky. — A long sought after Daviess County goal has been achieved as it joined the Appalachia High Intensity Drug Trafficking Area Program (HIDTA).
---
What You Need To Know
Daviess County was one of six areas selected to participate in the program
The program will help agencies more efficiently coordinate efforts
This has been a goal of the county for more than a decade
Sen. McConnell would like to see the program in as many Kentucky counties as possible
---
As part of the HIDTA program, Daviess County law enforcement agencies will have new federal support and critical resources, to combat their common issue of drug trafficking more efficiently. 
"I am convinced, I have long been convinced, I'll remain convinced that will translate into lives saved and there can be no greater focus there can be no greater accolade than that," says Daviess County Sheriff Keith Cain. 
Half of Kentucky's population is covered by a HIDTA area, but designations are hard to come by. 
"When you're designated 1 of only 6 counties in the United States of America to get a HIDTA designation this time, it has to be done because somebody at the top was pushing the buttons that needed to be done," says Owensboro Mayor Tom Watson. 
Daviess County is crediting Sen. Mitch McConnell (R-KY) for making it possible. 
McConnell says he has advocated to get HIDTA in as many Kentucky communities as possible. Thirty-six counties have landed a spot. 
"Looking at the results, I think it's made a difference, a positive difference, in every place there's been a hidta designation," said McConnell. 
The program will help authorities stay a step ahead of drug traffickers.
Daviess County earned its spot by proving a commitment of resources and crew to reduce drug trafficking. 
"I wish we didn't have this horrendous problem, but what we are here to today to say giving up is not an option," said McConnell.
Sunday night, Owensboro Police Department responded to a fatal overdose call. 
"That's another mother, another father that's lost a child. That's another son or daughter that's lost a parent," says Owensboro Police Department Major J.D. Winkler. 
Law enforcement agencies feel they will be more equipped to tackle drug trafficking issues and protect the citizens of Daviess County now that they are in the program.
"Addiction to controlled substances is a disease that requires treatment. Addiction to money, power, violence, and control over others that you perceive as weak is not a disease. It's a crime and we will not stop until these individuals are held accountable," says Winkler.
Original Article: https://spectrumnews1.com/ky/louisville/news/2021/06/01/daviess-county-joins-federal-anti-drug-program