Header Image: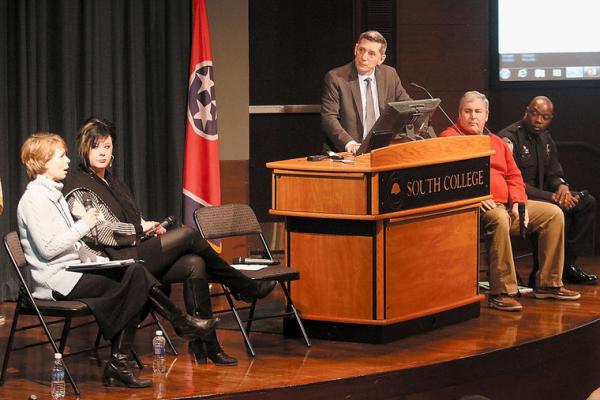 The drug problem in Blount County is rampant enough to warrant a federal designation — and help from federal agencies, said the Director of National Drug Control Policy Michael Botticelli.
At a press conference Thursday afternoon at the West Knoxville campus of South College, Botticelli announced Blount is one of 14 counties in 10 states nationwide being newly designated as part of High Intensity Drug Trafficking Areas. Along with Carroll and Grayson counties, both in Virginia, it was one of three Appalachian counties to be added.
The designation was almost a formality. Blount law enforcement have worked closely with the Appalachia High Intensity Drug Trafficking Area, which includes a string of 65 counties through West Virginia, Kentucky and Tennessee; Knox and several surrounding counties are among the 30 in Tennessee. Altogether, the federal government's 28 such designated areas include about 17.2 percent of all counties in the United States, a little more than 60 percent of the U.S. population. Forty-eight states, as well as Puerto Rico, the U.S. Virgin Islands, and the District of Columbia, have counties that are part of HIDTAs.
At Thursday's press conference, Appalachian HIDTA director Joel Reese said Blount has long partnered with Appalachian HIDTA, such as during a $17 million "pill mill" investigation last year that resulted in 102 federal indictments — the largest number of indictments from one investigation Reese had seen in his 38-year law enforcement career, he said. About one-third of the indictments, he said, came from Blount County.
As an official HIDTA county, he said, Blount will now have immediate access to more resources, including manpower, equipment, money for law enforcement overtime pay to staff task forces addressing the problem, and more prevention, education and treatment programs.
"We have figured out, you cannot simply arrest your way out of this problem," Reese said.
It was HIDTA that helped implement a program that puts the opioid overdose reversal drug naloxene in the hands of police officers in Knox County, which had 133 drug overdose deaths in 2014. To date, officers have successfully used it in Knox County at least five times, Reese said.
"These are people's kids being saved — somebody's mother, father, daughter, son," he said. "We can't forget these folks. We can't give up on them because they have an illness."
The Appalachian HIDTA was founded in 1998, primarily to deal with the large production of domestically grown marijuana in the area, Reese said. The program's focus later turned to the movement of cocaine into the area from Mexican drug cartels, then the local production of methamphetamine in homegrown labs, and now are dealing with a resurgence of heroin abuse as prescription opioids become more difficult and expensive to obtain.
Blount had applied to be part of the HIDTA for several years, said Blount County Sheriff James Berrong.
"This opens the door to" the county being able to immediately get training, manpower, help from other agencies, and funding and equipment that "far exceeds" what most rural sheriff's offices can bring to the table, Berrong said.
"I don't think it'll be a quick fix," said Maryville Police Chief Tony Crisp. "The problem has been ongoing. … It may take a while to put everything in place, but I do think we will see great benefits."
Botticelli stressed that this White House administration considers the drug abuse epidemic as much of a public health issue as a public safety issue, warranting not only prosecution, but widespread treatment.
"Prescription drug abuse has taken a heartbreaking toll on so many Americans and their families," he said.
---
Story provided by KnoxNews.